WE HAVE BEEN AROUND SINCE 2010
How the time has
passed
2011
Call us something else
Here it is, the eve of our company's registration and we're hard at work trying to come up with the best name. Words no one had ever heard of are suggested. Associations. Acronyms. It's a tough choice. Identity is important for everyone, especially for those who create it. But we've got it. The working name Real Focus becomes Pinarto... We'd finally put some "art" into it!
2012
New home
A few years have passed during which we met a lot of customers. We have a nagging suspicion we might need some more space. A space where we could work, meet and shoot. And so we are renting a space on Zabrdovicke in Brno and we are turning it into our studio.
2013
What kind of videos do you like best? Adverts? YouTube videos? Cat videos? ...maybe, but everyone loves a great music video! We are ecstatic to have been approached by EzyWay to produce the video for their upcoming single.
2015
Make some room for Sony and Hasselblad
DSLR cameras are fine, but they are no longer enough for us. We want to take our videos to the next level. So we are making some big investment decisions. We are finally acquiring Sony FS7, an industry-leading film camera, followed by a medium format camera Hasselblad. We are obsessed with tech.
2016
The dawn of TV commercials
We have enough experience making videos now. We've made lots of product videos, training videos, music videos... However, we are missing a TV spot in our portfolio. Luckily, thanks to our collaboration with Blue Kiwi agency we have secured a new client, CeWe, who is looking to get some commercials made for the Polish, Slovak and Czech markets. And so we are rolling up our sleeves, so you can see our work on your TV screens at home.
2017
Reinforcements have arrived
Boredom? What's that? We enjoy the work we do so much, there's too much of it. And exactly when we feel the need for some fresh ideas and an extra pair of hands, Jakub knocks on the door.
2018
Atelier One Take
Creativity cannot be contained. We have our ideas, but so do you. Sometimes DIY is better and we are feeling a growing need to support the wider creative community in Brno. Hence we've decided to to open studio One Take - a creative space for you, the artists, to use with our professional support and equipment on hand.
2019
Hello Mia!
No comment's needed. 🙂 We are literally a "family business".
2020
We are still obsessed with tech
We know a good shot is mostly about its composition, the lighting, a good idea and the script. But that's not all. One always needs first-class tools to achieve spectacular results, no matter what the field. That's why we always follow new trends and hence we are buying a new film camera and a set of cine lenses to go with it. We are used to investing into tech and your satisfaction with the finished product is always a reassurance that it's been money well spent.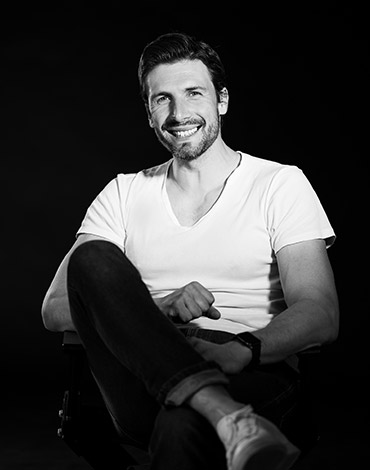 A photographer, a camera operator and the company secretary
When you call our number, you are most likely to speak to Pavol. Pavol manages all the clients, including marketing departments, he secures new commissions and he will be the one who will guide you through the whole process. He's involved in preparing the whole production, he comes up with the concepts and writes the scripts. You'll meet him on the day of the shooting, too, because he's a photographer and a cameraman by profession. His work is popular not only with Czech customers, but he's followed in Slovakia, Italy and Austria, too.
"A big part of the job is to understand the client's perspective and to find a solution which will communicate the main message, the benefits and the appeal of the product or service."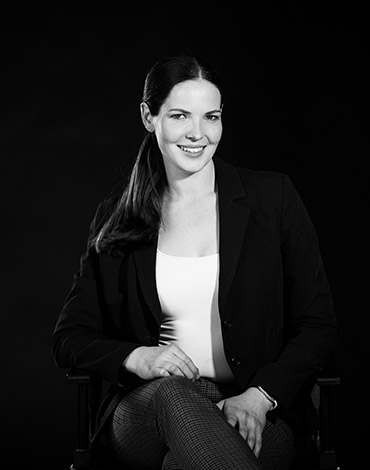 A photographer, a camera operator and post-production
You'll see Eva on the filming day – with a camera in hand or helping set up the scenes. She does a lot of video editing and colour grading. She's sought after as a photographer and her retouching skills are truly excellent. You'll get to meet her at both the beginning and the end of the process. Eva gets all the pictures ready for printing and online use, the video for its TV premiere, social or online media streaming. When it comes to online and offline advertising, Eva draws on her advertising and marketing communication studies.
"You'll get to work with me primarily when finalising the product. I need to be in touch with you to align my perspective with yours, so I know how to deliver your vision."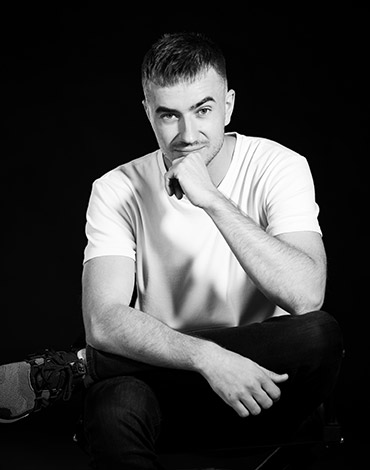 A camera operator, post-production
Jakub will listen to your ideas to be able to bring them to life when editing the footage. He'll choose the most appropriate shots, find the right music, finish the final cut and colour grade the video. You'll often see him behind the camera, too.
"Pro moji práci je nutné estetické cítění, cit pro střih i výběr hudby, timing. Poté, co poznám klienta, umím odhadnout, jaký hudební podklad bude pro dané video vhodný a jakým stylem by mělo být sestříháno." Postproduction editing/assistant
Please sed us an e-mail to info@pinarto.com. We would like to see your portfolio and a biography.
Mia might make you lisp, change your workflow (to prioritise other activities, such as playing) or she might make you go and change. She's great at smiling, crying, running around, making all sorts of sounds, repeating words and, most importantly, spreading positive energy. Therefore she is a true, irreplaceable member of the Pinarto team. She brings playfulness out of us, she reminds us of our carefree childhoods. And even when we are exhausted, she's sure to give us a second wind!
"I like to communicate the way I know for now. If you don't understand me, ask my parents."